Set up AES for Business
Note
Please be aware that AES for Business setup may take up to 4-6 weeks. For more pricing information, visit our Pricing page.
With AES for Business, your company domain (e.g. yourcompany.com) enables signing with the advanced electronic signature (AES). Anyone who creates a new Skribble account using your company domain (e.g. jsmith@yourcompany.com) can sign with AES without further action.
To set up AES for Business for your company, we'll need the following information:

Company domain (e.g. yourcompany.com)

Commercial register number of your company

Name and e-mail address of an internal contact person
To request AES for Business:
Click Business profile in the lower left

Go to AES for Business and click Start registration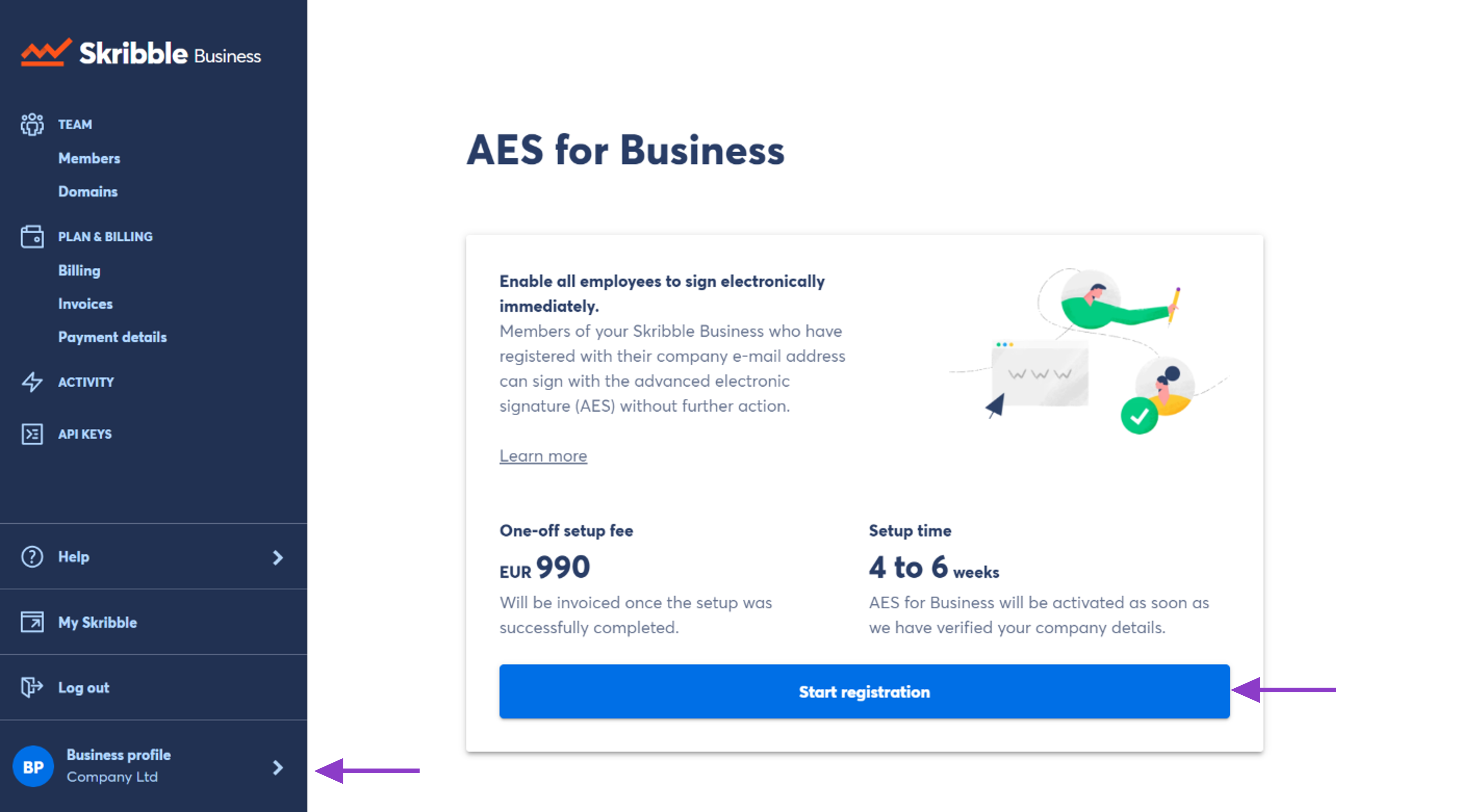 You'll be taken to a form to provide your company details

Once you submit the form, the AES for Business registration will start
Next, you'll receive 2 documents to sign:

Customer Digital Signing Service Acknowledgement and Agreement (must be signed with the advanced (AES) or qualified (QES) electronic signature)

GlobalSign Terms of Use (simple electronic signature (SES) is enough)
If you aren't authorised to sign these documents, please send them to the authorised signer in your company.
Once both documents are signed, we'll send them for verification to our partner GlobalSign

GlobalSign will contact you to verify your company details and whether you have full control of your company domain. This process might take a few more days.
You must reply to GlobalSign to prove that you fully control your domain. If you don't, we won't be able to start setting up AES for Business.
After GlobalSign has successfully verified your company details, we'll carry out the setup

To check that everything works correctly, we'll send you a test document to sign

Once you've successfully signed it, AES for Business will be available to your members
Cancelling AES for Business
Would you like to cancel AES for Business? Contact our support team at support@skribble.com, and we'll take care of it.